8 Tips On How To Test-Drive a Neighborhood While Social Distancing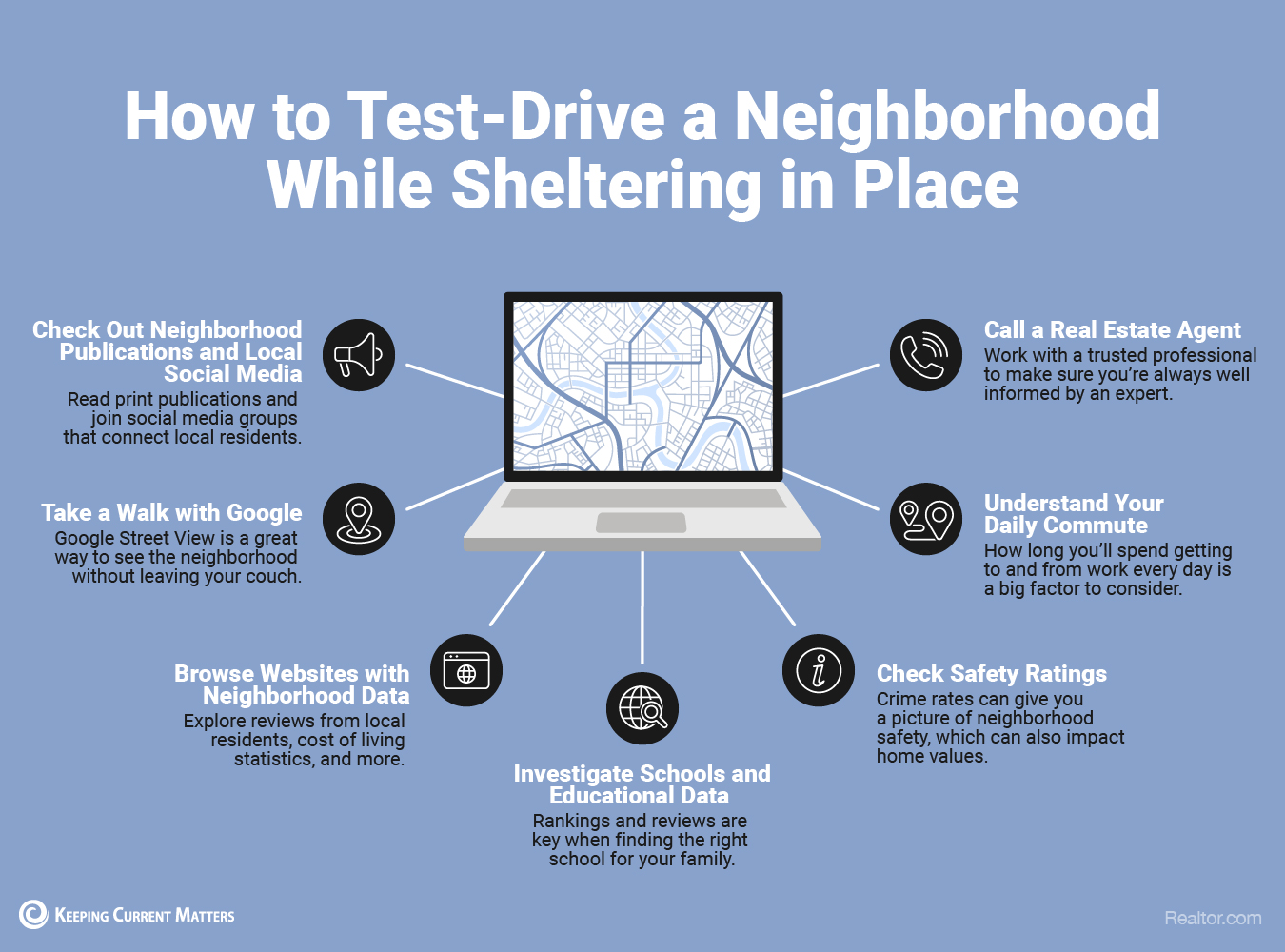 Finding the right neighborhood is everything when you're in the market for a new home. But, when social distancing still in full effect in many areas, scoping out a new neighborhood becomes a little more challenging. I have provided results from some online detective work and using the right tools, you can learn a lot about a neighborhood without leaving your home!
Believe it or not, we are not the first ones to consider buying a home without being able to pound the pavement in person. Agents that represent buyers have been providing video tours, 360 tours, and live streaming tours for clients for several years now.
Even though our ability to explore restaurants and local culture are limited, exploring neighborhoods in the time of coronavirus is still a possibility. Read on for practical ways to research from the comfort of your home via your lap top.
Connect With Neighborhood Social Media Groups and Publications
Many active neighborhood communities have a printed publication or social media platforms that help them stay connected. Here you can find information on local events and activities that can give you a better feel for the neighborhood. For example, local Savannah neighborhood, Ardsley Park uses NextDoor as a way to keep up with local events, report concerns, and even help find a lost pet. Check out Facebook, Twitter, and Instagram for groups or accounts that document what's going in your desired area You will often find that locals are happy to share with you their experience of the neighborhood.
Tour With Google
Interested in strolling the neighborhood from your couch? Listings on realtor.com features a link to the Google Street View for that address. Take a look at the Google Street View on realtor.com.
Google Street View is another way to go to google.com/maps. Simply type in the address of the house that interests you, and click on the photo of the property in the menu to the left of the map. When Google Street View is available, you'll be able to click and drag the image to move around the street.Google Street View is a great way to 'walk' around the neighborhood virtually.
Search engines also let you select filters for videos by using the neighborhood name. Use the word 'review' to get neighborhood and property reviews, or 'homeowners association' for more results.
Look For Websites With Neighborhood Data
There are some websites that can help you gather information on your next neighborhood. City-Data, for one, provides detailed city profiles such as cost of living, weather, and average home prices. It also gives forums with useful insight on the community and locals.  Type in a ZIP code at AreaVibes and you will find a livability score to help narrow down places you may want to live. Let's not forget that Yelp provides reviews on local restaurants, nightlife, local cultural events and supplies unfiltered reviews from local residents.
Read Over Other Real Estate Listings
Learn about a community's architectural styles and ages of homes by browsing online listings through sites like realtor.com, Trulia, and Zillow. You can learn if the neighborhood has '50s style ranch homes, classical Victorian homes, or homes with a modern open floor plan. Look at the 'homes-for-sale in the area' to hone in on prominent home styles
Ask a REALTOR!
Tech-savvy real estate agents- these days, that's most of them, are prepared for your questions and ready to meet your needs. It's a good idea to connect with an agent using technology to help you test drive an neighborhood. Many will make videos and tours, and share them with you.
If there is a specific home you are interested in, the listing agent can offer more information on the neighborhood, amenities, and cultural happenings Realtors often have extensive knowledge on homes and intimate knowledge on the area. We LOVE sharing our knowledge about our city!
Research The Local School System
A terrific resource to help research local schools is GreatSchools, which provides data on K-12 schools and reviews from other parents. Areas that boast great schools typically maintain higher property values, and highly coveted neighborhoods. Another option for research is to use education statistics via US News & World Report. It uses data on more than 23K public high schools in all 50 states to gather its statistics.
Be Aware Of Crime Rates
Safety is a priority for EVERYONE. Crime rates often give a picture of how safe a neighborhood is. Area with lower crime rates can often have higher property values. Look into websites such as CrimeReports for data on crime from law enforcement agencies. National Sex Offender Registry's public website provides data on registered sex offenders living nearby.
Research Your Daily Commute
Get a feel for the neighborhood by monitoring traffic and your potential work commute. Test drive via your pc the commute from home to schools and work using tools that can predict traffic like Waze or Google Maps. They predict the level of traffic during your commute hours and give you an idea of how long it'll take to get to work. Realtor.com also offers a similar commute time feature on every home listing.